Book Appointments Online
*Please note:
Online Booking will only work for appts with a minimum of 24hrs advance notice, any appts needed sooner will have to be phoned in.
If you book an appointment online and it is accepted, you are expected to show up. Should you not be able to make your appointment, please CALL (361)360-6000. If you do not show for an appointment you've booked online, we will not accept any more online requests from you, and you will only be able to schedule SAME DAY appointments by phone. Also, be aware that we require a 50% non refundable deposit for Brazilian waxes, we will give you a call to collect this BEFORE we will accept your appointment.
When Booking your appointment you will be asked to specify if you'd like the First Available, or if you'd like someone specific. If you want a specific therapist for your service, choose their name from the dropdown list. If you leave your choice as first available, you may end up with a different therapist than originally scheduled.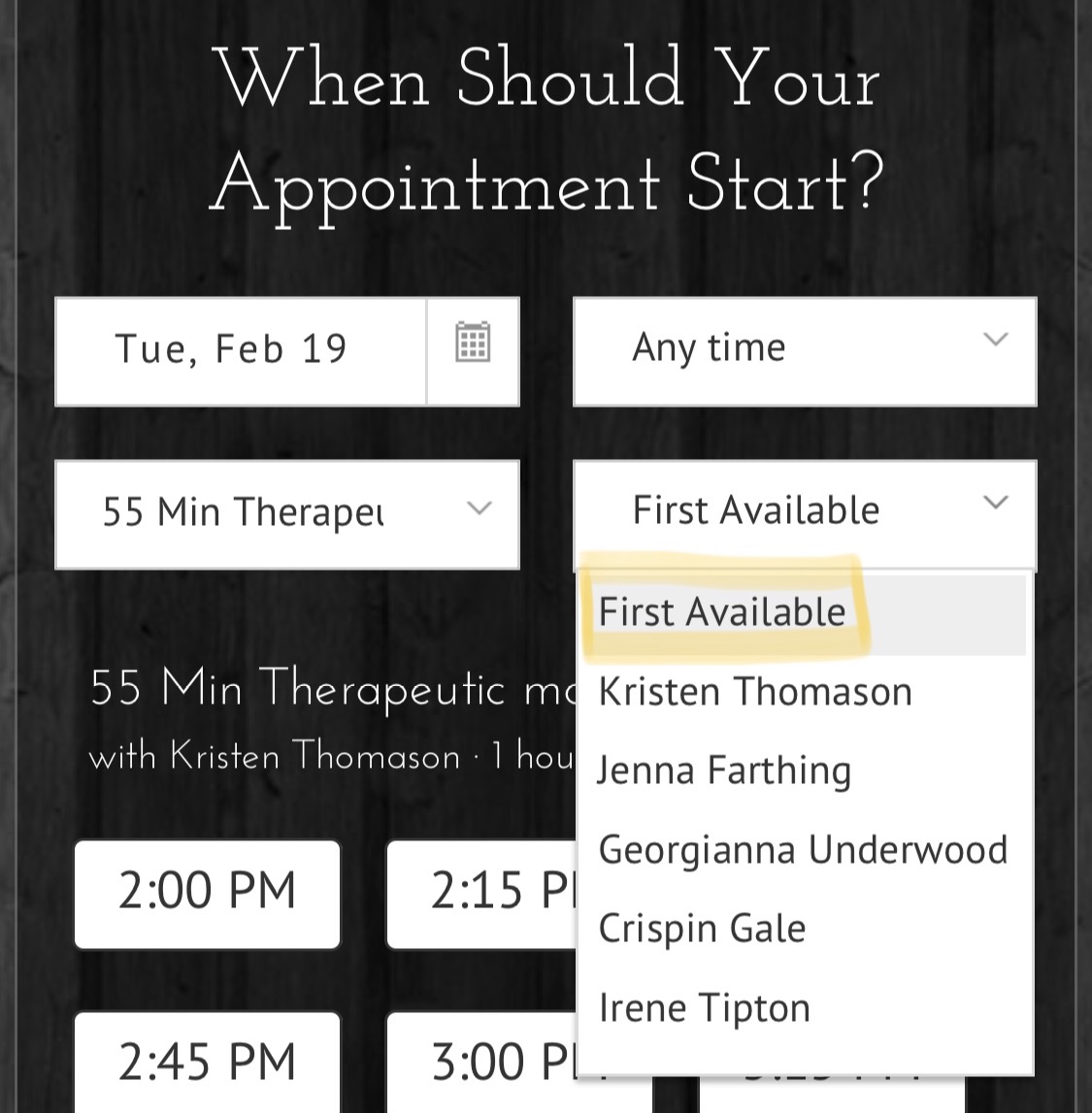 At this screen you will need to finish your appointment request by adding any comments necessary, and click the request appointment link to finish.
You will receive an email when we accept (or deny) your request, which should take less than 24hrs Tuesday-Saturday.
If you don't reach this screen your request has NOT been received yet. Make sure you see a confirmation number and Appointment Request Successful! to be sure your request has been received.

*******IF YOU DO NOT GET AN EMAIL STATING THAT WE HAVE ACCEPTED YOUR APPOINTMENT REQUEST, WE DID NOT GET THE REQUEST. BEFORE YOU LEAVE THIS PAGE YOU MUST SEE A CONFIRMATION NUMBER*******